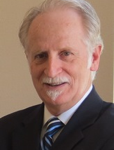 Noel Cookman
The Divorce Lending Specialist.
We turn white paper into green money
In most divorces, the home is the biggest asset sometimes representing a significant part of a couple's net worth. Yet it is also one of the most mysterious issues in resolving future ownership, equity buyouts, how the mortgage debt is to be serviced and how to relieve former owners (ex-spouses) of liability. This is because 1) legal professionals have little if any knowledge of mortgage finance issues (they are legal pros not mortgage pros), 2) the mortgage finance landscape has been convulsing the past several years causing a climate of uncertainty in every area of mortgage underwriting and funding and 3) until 2002, no authoritative source had been developed – mortgage professionals had not developed an expertise in divorce/finance issues and had not inserted themselves into the divorce process. Read how Noel Cookman first began developing this specialty and how it has benefited hundreds of divorced home owners.
This is your portal to real, tested and proven solutions for everything related to divorcing clients' financing needs.
How to properly structure buyouts in a divorce (it's not as straightforward as you might think)
How to qualify with child or spousal support months before you thought you could
How home buyers can purchase homes before final divorce without drama
How to turn assets into income so you can qualify for a mortgage
How attorneys and the clients receive platinum level consultation for free
How to save hours in mediation, consultations, interviews, collaborative meetings and even court
Who does the financing? Where do I get my mortgage?
I do it. I do not just outline in principle how mortgage financing works for a divorcing customer. I actually have my own team and a large mortgage bank that does the financing. I am licensed mortgage originator. This means that when I say something will work, I actually make it work by doing the financing – turning white paper into green money. This also means that special nuances in a client's case are checked out with the actual underwriter (both lending and title insurance) before the solution is stated.
Apply Online Securely and Safely
This link takes you to Noel Cookman's mortgage application landing page (not part of The Mortgage Institute). As a mortgage loan originator, he does not function as a consultant to any consumer.