Here's the video to accompany this article > HERE
Preface: I am speaking of Child Support and Spousal Support income in a divorce settlement. Spousal Support maybe called alimony, spousal maintenance, contractual alimony…any number of different terms as determined by state laws or common practice. In mortgage qualifying, it's pretty much all the same.
There are, obviously, other types of income. For example, in mortgage qualifying there are numerous types of income that appear in a drop-down menu in our loan software. Each type of income has its own rules as to whether it is considered as qualifying income. Here are a few examples:
Wage-earner income (i.e., paystubs and W-2s). The gross amount is considered as qualifying income. Applicant must have either two years' experience in the same line of work without serious, recent "gaps" in employment; Or, in lieu of two years' experience, education for that particular line of work resulting in a diploma, degree or certification.
Self-employed or contractual labor (1099's, K-1's, etc.). Two years in business; the past two years of tax returns document an average income – being the adjusted gross income (after deductions, with some "add-back" exceptions) without significant decline. Year To Date Profit and Loss statements are typically required as well.
Income from rental properties. Determined sometimes by profit and loss reported on tax returns; also, by lease agreements, security deposits and first month's rent; and, an appraisal that includes "rental comps" to specify the income-producing capacity of that property.
Notes receivable (which are not uncommon in divorce). This typically requires documentation of having received payments for 12 months with a continuance of 3 years.
...and many more
An applicant may have any number of types of income sources. I am dealing with the most common in divorce – Child Support and Spousal Support and what makes that income QUALIFYING or not.
This follows from the first factor – debt/income ratio. We must know both and we must be able to correctly calculate both. But, it's possible that income – in a divorce settlement – is somewhat malleable. That is, 1) it can vary and 2) it can be structured in such a way so as to either QUALIFY or NOT QUALIFY.
Let me re-state that so that everyone will understand the gravity of the situation.
All income is not equal.
In mortgage qualifying, there is QUALIFYING income.
And, there is NON-QUALIFYING income.
If support is not structured and documented in very prescribed ways, IT IS NOT QUALIFYING INCOME and, effectively, counts as $0 toward the applicant's income.
There are two numbers to keep in mind when calculating support income.
6 and 36
Very simply,
Document support income has been received for 6 months.
Verify support income will continue for 3 years (i.e., 36 months) in a legal document like a divorce decree.
Now, here is the THE MOST IMPORTANT PART of this article.
We have secret, unknown, largely un-practiced tips and tricks to manipulate this timeline to the advantage of your clients, the divorcing homeowner who needs mortgage financing. I have used these tips and tricks – actually based on standard underwriting guidelines – for the better part of two decades to qualify divorced/divorcing homeowners for mortgage loans they would not otherwise obtain.
I cannot tell you these tips and tricks in this article; but if you contact me – or better yet, have your client contact me – I will go over them in general AND outline them in detail for that specific transaction. I teach these in my CLE seminars on Credit & Mortgage Qualifying in Divorce. And, I will give these secrets to any family law attorney who seeks to know how. I actually commit these specifics to print in my customized Assessment/Approval for my divorcing applicants.
To be clear
For the documentation (<key word and secret right there) of 6 months of support income, I show clients how to complete that documentation MONTHS before they otherwise would…without either party paying or receiving a dime extra.
For the continuance for 3 years, there are a couple of important factors that can make-or-break the mortgage loan. Here's one simple math trick.
Spousal Support – Let's take an example
If applicant receives $5,000/month for 2 years, how much of that $5,000 is considered "qualifying" income?
Answer: $0
Why? Because it does not continue for 36 months.
There are a couple other considerations; but, basically multiply $5,000 times the 24 months ($120,000) and divide by 36 and ask the recipient, can you live on $3,333/month for 3 years instead of $5,000/month for 2 years? In my experience, the recipient believes it is workable – especially if it means they get the financing.
But, from what date is the 36 months measured?
From the date of final divorce.
From the date of loan closing.
From the date that the decree orders payments to be made.
Answer: None of the above.
You have to call or email me for the answer. And, if you were in one of my CLE Seminars this January-February, you may remember the answer.
Part of the answer is – QUITE LITERALLY – make sure the homeowner applies for their loan WITH ME immediately. There, I nearly gave away my secret. Have you figured it out?
Watch the video right here.
4 Make or Break Factors in a Divorce Settlement: #1 – Debt/Income Ratios
Watch the video right HERE.
I will deal more with Debt more in the 3rd Quadrant (Buyouts)
I will deal more with income in the 2nd Quadrant (Support)
But, this is YUGE. It's actually a matter of federal law with a few "safe harbor" exceptions.
If you don't get this right – even by accident – there is no forgiveness, your client doesn't get the mortgage loan.
It's not just income and it's not just debt – it's the ratio.
Debt/Income RATIO.
So, just having a handle on debt assignment is only half the equation. If you don't know the income, you're lost.
And, when it comes to mortgages,
it's not just income – it's QUALIFYING income
I can give you some tips but the only way to make sure you don't BREAK the deal is to have a Divorce Lending Specialist look at it and give you a professional evaluation. [Bad news: there are hardly any true Divorce-Lending Specialists out there; Good news: I know a guy.]
The only way they can give you a real, usable evaluation is to take an application.
The only way they can make sense of the application is to calculate the new DEBT/INCOME ratios;
The only way they can do that is if they know how to READ and PREDICT the settlement. That's part of the magic. That's part of the secret sauce.
They have to know how to PRE-UNDERWRITE the divorce decree. This is why we publish the following notice in our Assessments and our email signatures.
PLEASE DO NOT FINALIZE YOUR DIVORCE
UNTIL I HAVE PREVIEWED THE DECREE
You should know that we are not performing a legal review of a decree. I'm not a lawyer and even if I were, I would not be inserting my legal opinion in another's case. I am a mortgage person and I have to keep my promise to you and your client:
I will turn white paper (divorce decrees)into
Green Money (funded loans, buyouts, legal fees paid, etc.)
To summarize, the Divorce-Lending Specialist (The Mortgage Institute) must do 3 things to assure that this Make-or-Break Factor – Debt/Income Ratio – does not exceed the maximum allowable:
Take an application from the client – sooner than later
Calculate actual debt and actual income to determine a ratio
"Read" the settlement in advance (includes PRE-Underwriting the decree).
In the 3rd Factor video, I'll show you that we can manipulate the Debt/Income ratios in order to qualify borrowers who would not otherwise qualify. If you've been communicating with me (phone or email – and you know I'm the easiest guy on the internet to contact), you know part of my secret sauce – how I manipulate ratios to make deals work. I can tell you in our personal communication but I am not apt to reveal it on the internet.
But, first things first. Call me now. I'll figure it out.
Noel Cookman
972-724-2881
Noel@TheMortgageInstitute.com
Introduction: The Most Basic Question for Divorce-Related Mortgage Financing…And I Almost Missed It
This is the start of a America's very best newsletter-blog for everything to do with Divorce and Mortgage Financing. We offer the divorcing community across America a clear, comprehensive, authoritative answer to every conceivable question that divorcing folks (and family law professionals like lawyers, financial planners, realtors, etc.) have concerning a very specific niche – the intersection of Divorce and Mortgage Finance.
This is the first blog-article; and, I promise that if you take the time to read my material you will absolutely get value from it. There will always be useful information. This is not some idle, fanciful hope. I've done it for years with family law attorneys. And, I've kept that promise. If any attorney opens my email, they will always find usable information for their practice of family law, specifically how Divorce affects – and is affected by – Mortgage Financing.
It's a huge set of problems and issues. And, most people only face them once in their lifetime, if that much. (Although, most of us know many couples who get divorced and could use some solid information about what they can and can't do regarding home ownership and financing). But, it involves, for most people, is the biggest asset they own – their residence.
Just because this is introductory doesn't mean I will not give you some "solid meat." In fact, you may come back to read this article or pass it on to friends many times. I am going to show you how divorce affects your ability to own a home, buy a home, finance a home…and – MOST IMPORTANTLY – what you can do to control the situation.
You do not have to be a victim when it comes to owning your home and getting the best financing possible. You just have to know the rules. And, it helps to be hooked up with knowledgeable Divorce-Lending Specialists. The bad news is that there are not very many of them. The good news is – I know a guy. 😊
So, I read Content Marketing by Jim Pullizzo and he told of a guy who started a very successful blog about pools by writing out every question he could think of that folks have about pools.
So, I sat down and began writing as many questions as I could think of, everything I remembered people asking me, everything attorneys had asked me that I could re-phrase to be a question from a divorcing person.
Then I put it out on Instagram – what questions, I asked, would you have about divorce and mortgage finance. The first response I received was from a helpful friend of mine and my sons, Zach Ross. I had met Zach a few years ago. He is a young entrepreneur with an infectious attitude and a warmth that endeared me to him. His question was perfect. Thanks Zach for getting me started off right.
Zach responded: So, divorce affects your ability to get a mortgage?
So basic. Since I lived, breathed, ate and drank it for the better part of 20 years, I took for granted that everyone knew it.
ABSOLUTELY, a divorce affects your mortgage financing.
A divorce ABSOLUTELY affects everything about your mortgage and your home ownership. The divorce decree is an outline of your life. It reveals how much you owe and how much you receive in income and what assets you receive or part with.
So, when a mortgage lender is deciding whether or not to lend you money, they will look at YOUR LIFE – especially everything with a dollar mark - $ - beside it and everything with a number attached to it. The lender will take note of timing issues to determine whether or not your support income can be counted as "qualifying" income.
That is, how long you receive child support or alimony or spousal support – well, it's revealed in a divorce decree. How much you have to pay and for how long you have to pay it – that's also revealed in a divorce decree.
Now here's what very few people understand. And, when I say "people" what I mean is "ALL PEEPS." Lawyers, judges, mediators, folks who are divorcing, financial planners, realtors, and YES – even mortgage professionals.
The divorce settlement can either accommodate your mortgage loan approval or totally sabotage it.
4 Factors in a Divorce Settlement That Affect Your Mortgage Loan Approval

I don't just point out the potential pitfalls and liabilities in a divorce decree. I consult with the divorcing party and their attorney to make sure those pitfalls and disqualifying features of a settlement are AVOIDED.
So, what's the take-away in this introductory message about your divorce settlement? It's very simple – you need the services of an experienced Divorce-Lending Specialist. That's going to be the take-away for every issue imaginable – get the expert on it!
Here's why. One of our trained specialists will know how to pre-underwrite your divorce settlement AND make recommendations for the precise language that is required in the final decree to make sure your loan will be approved. Pre-Underwriting is very important. But, it IS counter-intuitive to the mass of the mortgage industry. Nobody expects it. Not yet anyway. One day, it will be standard operating procedure. But for now, it's unique and unusual.
We do it. And we do it right.
We use what we call the Wayne Gretzky Method. Gretzky is the famous hockey player who, when asked the secret of his scoring record replied "I always skate to where the puck is going to be, not to where it is." That's what we do. We also think of it as reverse engineering. We project into the future – we determine what you need the end result to be – and then we "reverse engineer," working backwards to design your loan intentionally.
Things to keep in mind.
This is a Pre-Underwriting Review not a legal review. We have virtually zero problems in final underwriting because, when we send the final decree to the underwriter as the final piece of the puzzle, there are no surprises, the loan perfectly conforms to the outline of the decree:

the buyout amount (if there is one), structured as needed;
the debt assignments;
child or spousal support;
alimony;
assets awarded;
properties awarded
the lender's knowledge of the value of the property being financed (because an appraisal has been performed);
beginning and end dates for the movement of funds and
much more…
This is only useful if a real loan application has been taken, processed and conditionally So, get your application in NOW.
Attorneys are hungry for this information as they hope that their clients (and the other, opposing, clients) can get financing for the requirements in the divorce settlement. But, without our input, they have no idea and can only guess at mortgage loan approvals.
So, here's a peek at the Four Make-Or-Break Factors in a Divorce Settlement that Absolutely Affect Your Ability to Get a Mortgage Loan.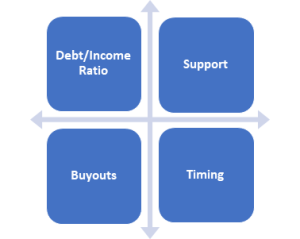 Any one of these issues can become a problem which can become a disqualifying factor in your mortgage loan.
You know that the first key is to solve the issues in advance by applying now with a qualified Divorce-Lending Specialist
Now, watch the next video and read the next blog to learn what the first Make-Or-Break issue in your divorce settlement.
4 Make or Break Mortgage Qualifying Issues in a Divorce Settlement 
I don't expect a lawyer to have to think about these things. That's why you have me. But, you become infinitely more valuable to your clients when you understand these four factors that WILL make or break their mortgage qualifying.
If these four elements are mishandled in the settlement (Mediated Settlement Agreements, Informal Settlement Agreements, final decrees or separation agreements in many states), the odds of your clients getting their mortgage loan edges closer and closer to ZERO. Whereas, if you understand these factors, you dramatically increase your clients' odds of getting the right mortgage loan and, maybe, a loan at all.
Those elements are:
Factor #1: Debt/Income Ratio
Factor #2: Support
Factor #3: Buyouts
Factor #4: Timing
In the following 4 videos and blogs, I will expand – very simply – on each of these. I will warn you, however, that the big secret that makes it all work – the ONE THING that makes the difference - is connecting your client to me and my staff of Divorce-Lending Specialists.
And, candidly, it's much simpler for you to just say "call The Mortgage Institute; I know Noel, and he will take care of you." That way, you don't have to do all the "figuring" for yourself. You just turn it over to me, and we "figure" it out.
But, you will increase your leverage in negotiations by knowing these factors...if for no other reason than to warn all parties that certain things just will not work.
I'll give you an example. I've heard [some variation of] this many times. Let's say in mediation, opposing attorney Foghorn Leghorn says "We'll give her [your client] $5,000 a month for two years…any bank will be happy to give her a loan with that income." (It's best if you say it in the Foghorn Leghorn voice).
First of all, when opposing says the word "bank," just be aware that he or she probably doesn't know what they're talking about. I'm a mortgage banker and I have to get up every morning and find out if guidelines have changed overnight.  And, I can just tell you that there is far more misinformation out there than accurate information when it comes to lending standards. Don't take anyone's word for a lending standard – and $5,000/month for two years either passes lending standards or it doesn't – when you're in a mediation or negotiation. As it turns out, it does NOT pass lending standards. Keep reading.
Don't even take a judge's word for it. ESPECIALLY do not take a judge's word for it.
The only person qualified to make a statement about a lending standard or guideline is the person writing the check.
It's the golden rule – he who has the gold, makes the rule.
Secondly, and to my specific example, $5,000 per month for two years counts as $0 in qualifying income for a mortgage loan. That's right – NADA. ZIP. NOTHING. GOOSE EGG. That's because – and I'm getting ahead of myself – support income has to continue for THREE YEARS, not a month less.
But, even with that guideline, there are some interesting twists that mean that you can "save the day" for any divorcing person needing a mortgage loan – it all has to do with starting the loan application as soon as possible. More on that later.
For now – and if you're negotiating before you can see all of the next 4 videos/blogs – just tell them "Hey look, we can make or break the clients' ability to get a mortgage loan based on our attention to these FOUR FACTORS…
#1: Debt/Income Ratio
#2: Support
#3: Buyouts
#4: Timing
So, we'd better get Noel on the phone right now so he can steer us in the right direction."
Noel Cookman
972-724-2881
Noel@TheMortgageInstitute.com